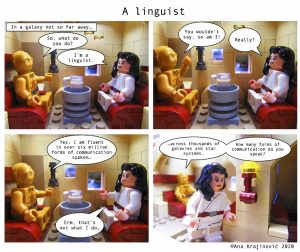 Programme 2021/22
(All lectures take place at 19:30. In the first semester, all lectures take place online, in the second, we hope to return to campus. Watch this space or our Facebook page for updates.)
30-09-2021             Emiliana Cruz (Centro de Investigaciones y Estudios Superiores en Antropología Social (CIESAS), Mexico City):
"Hiking to Document the Wisdom, Knowledge, and Memories of the Elders of San Juan Quiahije: An Interdisciplinary and Pedagogical Approach"
20-10-2021            Ashwini Deo (Ohio State University):
"The emergence of split-oblique case systems: a view from the Bhili dialect continuum (Indo-Aryan)"
22-11-2021           Sali A. Tagliamonte (University of Toronto):
"Mining for linguistic gold: The Ontario Dialects Project"
[online]
21-02-2022            Tamsin Blaxter (University of Cambridge):
"What maps can tell us about grammar: enriching historical linguistics with evidence from geolinguistics and sociolinguistics"
21-03-2022           David Willis (Oxford):
"Tweetolectology: Linguistic variation from Port Talbot to Port-au-Prince (via Portsmouth)"
09-05-2022            Diego Pescarini (CNRS):
'Negation marking in central Romance: reviving some late 19th and early 20th century data'
Programme 2020/21
05-10-2020 Mathieu Avanzi (Paris VII): "Mapping dialectal variation"
19-10-2020 Artemis Alexiadou (HU Berlin): "Linguistic changes in heritage grammars"
23-11-2020 George Walkden (U Konstanz): "Can we predict future language changes?"
14-12-2020 Ailis Cournane (NYU): "Modal verbs in language development and language change"
08-02-2021 Roberta D'Alessandro (U Utrecht): "What microcontact tells us about language"
22-04-2021 Nino Grillo (U of York): "Local and Universal: On the interaction of universal parsing principles and grammatical variation."
10-05-2021 Hae-Sung Jeon (U Central Lancashire): 'Intonation: From Phonetics to Meaning' 
Programme 2019/20
03-10-2019 Pritty Patel-Grosz (Oslo): Explorations in the semantics of dance [CANCELLED]
07-11-2019 W. Tecumseh Fitch (Vienna): The Evolution of the Neural Basis for Language: A Comparative Perspective
12-12-2019 Stefan Rabanus (Verona): Possessive constructions in Cimbrian: contact-induced or autonomous morphosyntactic change?
02-03-2020 Ianthi M. Tsimpli (Cambridge): Linguistic Complexity in Bilingual Children's Grammars
30-03-2020 Chiara Gianollo (Bologna): Simply not? How negation is strengthened in discourse, and which effects this may have over time
29-04-2020 Ingo Feldhausen (Frankfurt): Focus, prosody, and word order: How new information is encoded in language and how one can investigate focus experimentally
Programme 2018/19
03-10-2018 Tjerk Hagemeijer (Lisbon): The formation of the Gulf of Guinea creoles: between languages, genes, and history
23-10-2018 Gerardo Mazzaferro (Turin): Researching (post)multilingualism: Translanguaging practices in an emergent superdiverse city, Turin (Italy)
03-12-2018 Beáta Megyesi (Uppsala): Decoding secret writings from the past – CANCELLED
25-02-2019 Daniel Gutzmann (Cologne): I lost my damn watch! The grammar of expressive adjectives. – CANCELLED
14-03-2019 Peter Alexander Kerkhof (Leiden): How bilingual Belgians reshaped the French language: Germanic-Romance language contact and Pippinid prestige
02-04-2019 Lutz Marten (SOAS London): Universality and variation in language: Comparing East African Bantu languages in the context of the world's linguistic diversity
15-05-2019 Marjo van Koppen (Utrecht): Negation in the letters of P.C. Hooft: combining literary studies and linguistics
Programme 2017/18
26-10-2017   Roland Pfau (Amsterdam): Sign Language Negation: From Gesture to Grammar
30-11-2017   Maria Garraffa (Heriot Watts, Edinburgh): Mechanisms of language learning in children with developmental language disorder
04-12-2017   Beáta Megyesi (Uppsala): Decoding secret writings from the past  – CANCELLED; moved to 3-12-2018!
19-03-2018   David Britain (Bern): Discovering dialect with mobile phone apps
26-04-2018   Gea de Jong-Lendle (Marburg): Forensic phonetics: Language identification from a foreign accent in German – Where does the kidnapper come from?
09-05-2018   Giuditta Caliendo (Lille): Legitimacy and Identity in the Time of Crisis: a discursive perspective on European integration
Programme 2016/17
18-10-2016     Birgit A. Ramussen (Copenhagen): Tracing the Indo-Europeans – their language and culture
07-11-2016    Tamara Rathcke (Kent): On the power of rhythm in language and music
14-12-2016    Francis Nolan (Cambridge): Intonation analysis: the 'British' school and the emergence of a phonology of intonation
23-03-2017     Ielka van der Sluis (Groningen): The use and effectiveness of multimodal instructions
27-04-2017     James Clackson (Cambridge): Ancient Etruscan – deciphering an unknown language
08-05-2017     Rob Truswell (Edinburgh): Bonobos, children, and fear of trees
Programme 2015/16
08-10-2015     Andrew Nevins (University College London): Tooth and Throat Singing: Mondegreens and the Decoding of Sound Structure
26-10-2015    Caroline Heycock (University of Edinburgh): Linguistic change in the North Atlantic: Investigating modern Faroese
07-12-2015     Marc van Oostendorp (Universiteit Leiden): Frans klinkt als een machinegeweer, Nederlands als morsecode
09-03-2016     Klaus Abels (University College London): What word order typology reveals about universal cognitive biases
25-04-2016     Ioanna Sitaridou (University of Cambridge): Continuity, Contact and Change: The Greek varieties (Romeyka) in Turkey today
03-05-2016     Antonella Sorace (University of Edinburgh): Bilingualism across the lifespan: language and general cognition