Abstract:
Bilingual children have often been shown to have lower language proficiency when compared with monolingual children. These studies usually examine bilingual children's use of inflectional morphology and vocabulary skills. I will focus on syntactic complexity measures in the language production of monolingual and bilingual children as well as on their reference tracking in narratives as an index of complexity at the interface between syntax and discourse. The use of referential forms in bilingual speakers' production has been argued to indicate limitations in processing resources. I will report on recent findings showing that linguistic properties (crosslinguistic influence and dominance) affect the use of over- and under-specified nominal and pronominal forms in bilingual production rather than limitations in cognitive resources as such.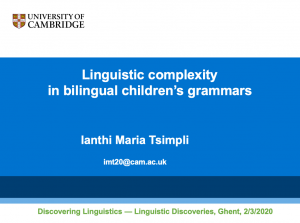 Click to dowloand the presentation
Mini-bio:
Ianthi Maria Tsimpli  works on language development in the first and second language in children and adults, language impairment, attrition, bilingualism, language processing and the interaction between language, cognitive abilities and print exposure. She has extensively worked on the case of Christopher, a polyglot-savant, with Neil Smith (UCL) with whom she co-authored the book The Mind of a Savant: Language Learning and Modularity (1995, Blackwell) as well as a number of journal articles.  A number of articles and book chapters co-authored with Neil Smith, Bencie Woll and Gary Morgan as well as the book "Signs of a Savant"(2010, CUP) have also been published on a subsequent research project investigating Christopher's ability to learn British Sign Language. Before moving to Cambridge, Professor Tsimpli taught Linguistics at University College London, University of Newcastle-upon-Tyne, University of Cambridge (Research Centre for English and Applied Linguistics) and Aristotle University of Thessaloniki. The Language Development Lab she founded and directed in Thessaloniki conducts research on first and second language development, bilingualism, SLI, Broca's aphasia, native adult, child and L2 sentence processing and eye-movements. Professor Tsimpli is Associate Editor of Lingua and member of the Editorial Board of the journals Bilingualism: Language and Cognition, Second Language Research, Linguistic Approaches to Bilingualism, Language Acquisition: A Journal of Developmental Linguistics, Journal of Applied Linguistics, Biolinguistics (e-journal), Journal of Greek Linguistics and of the Book Series "Language Acquisition and Language Disorders".